Lab Scanalyzer HTS
HIGH RESOLUTION PHENOTYPING
The LAB SCANALYZER HTS is a medium to high throughput screening platform used to accurately monitor a wide range of samples including small plants, leaf disk assays, fungi, cultures and small organisms such as mosquito larvae or nematodes.

Cameras move over an array of samples that can contain 48, 72, or 84 multi-well plates (depending on cabinet dimensions), assessing large numbers of different samples in one run. Instead of plates, trays or pots can be used, and corresponding adaptors are available.
The enclosed environment of the HTS guarantees consistent and reproducible imaging conditions, suitable for four camera types supplied by LemnaTec (VIS, NIR, IR and Fluorescence). Lighting options include backlight, direct or diffused top light and fluorescent imaging with blue light excitation.

Cameras can be easily repositioned to suit different plant containers and illumination conditions. Different optical configurations are available depending on sample dimensions.
Technical Specifications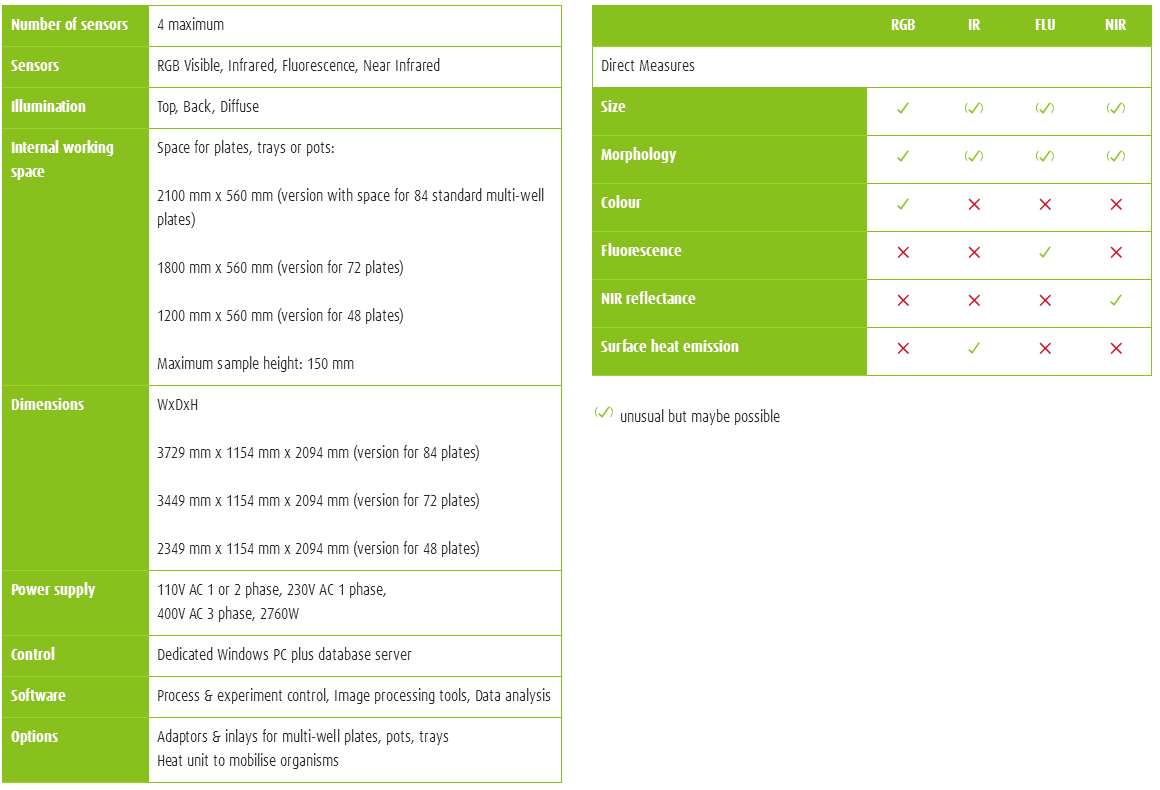 REFERENCES
Brugière, Norbert; Zhang, Wenjing; Xu, Qingzhang; Scolaro, Eric J.; Lu, Cheng; Kahsay, Robel Y.; Kise, Rie; Trecker, Libby; Williams, Robert W.; Hakimi, Salim; Niu, Xiping; Lafitte, Renee; Habben, Jeffrey E. (2017)

Overexpression of RING Domain E3 Ligase ZmXerico1 Confers Drought Tolerance through Regulation of ABA Homeostasis. In: Plant Physiology, S. 1350-1369. DOI: 10.1104/pp.17.01072.http://www.plantphysiol.org/content/175/3/1350

Lucia M. Acosta-Gamboa, Suxing Liu, Erin Langley, Zachary Campbell, Norma Castro-Guerrero, David Mendoza-Cozatl, Argelia Lorence (2017)

Moderate to severe water limitation differentially affects the phenome and ionome of Arabidopsis. In: Functional Plant Biology, S. 94. DOI: 10.1071/FP16172. http://www.publish.csiro.au/fp/FP16172

Shao, Mon-Ray; Kumar Kenchanmane Raju, Sunil; Laurie, John D.; Sanchez, Robersy; Mackenzie, Sally A. (2017)

Stress-responsive pathways and small RNA changes distinguish variable developmental phenotypes caused by MSH1 loss. In: BMC plant biology, S. 47. DOI: 10.1186/s12870-017-0996-4. http://bmcplantbiol.biomedcentral.com/articles/10.1186/s12870-017-0996-4
Shao, Mon-Ray; Shedge, Vikas; Kundariya, Hardik; Lehle, Frederic R.; Mackenzie, Sally A.; Lehle, Fredric R. (2016)

Ws-2 Introgression in a Proportion of Arabidopsis thaliana Col-0 Stock Seed Produces Specific Phenotypes and Highlights the Importance of Routine Genetic Verification. In: Plant Cell (The Plant Cell), S. tpc.00053.2016. DOI: 10.1105/tpc.16.00053.http://www.plantcell.org/content/early/2016/03/15/tpc.16.00053.full.pdf
Vello, Emilio; Tomita, Akiko; Diallo, Amadou Oury; Bureau, Thomas E. (2015)

A Comprehensive Approach to Assess Arabidopsis Survival Phenotype in Water-Limited Condition Using a Non-invasive High-Throughput Phenomics Platform. In: Frontiers in Plant Science, DOI: 10.3389/fpls.2015.01101. http://journal.frontiersin.org/article/10.3389/fpls.2015.01101/full
Dornbusch, T.; Michaud, O.; Xenarios, I.; Fankhauser, C. (2014)

Differentially Phased Leaf Growth and Movements in Arabidopsis Depend on Coordinated Circadian and Light Regulation. In: The Plant Cell, S. 3911–3921. DOI: 10.1105/tpc.114.129031. http://www.plantcell.org/content/26/10/3911

Saran, Raj K.; Ziegler, Melissa; Kudlie, Sara; Harrison, Danielle; Leva, David M.; Scherer, Clay; Coffelt, Mark A. (2014)

Behavioral Effects and Tunneling Responses of Eastern Subterranean Termites (Isoptera: Rhinotermitidae) Exposed to Chlorantraniliprole-Treated Soils. In: Journal of Economic Entomology, S. 1878–1889. DOI: 10.1603/EC11393. http://jee.oxfordjournals.org/content/107/5/1878
Petrov, Veselin; Schippers, Jos; Benina, Maria; Minkov, Ivan; Mueller-Roeber, Bernd; Gechev, Tsanko; others (2013)

In search for new players of the oxidative stress network by phenotyping an Arabidopsis T-DNA mutant collection on reactive oxygen species-eliciting chemicals. In: Plant omics journal, S. 46–54.http://search.informit.com.au/documentSummary;dn=226803082169686;res=IELHSS
Prullage, Joseph B.; Tran, Hai V.; Timmons, Phil; Harriman, Jay; Chester, S. Theodore; Powell, Kerrie (2011)

The combined mode of action of fipronil and amitraz on the motility of Rhipicephalus sanguineus. In: Veterinary parasitology, S. 302–310. DOI: 10.1016/j.vetpar.2011.03.041. http://www.sciencedirect.com/science/article/pii/S0304401711002275