P700 & Chlorophyll Fluorescence Measuring System
| | | |
| --- | --- | --- |
| The DUAL-PAM-100 measuring system lifts the parallel recording of photosystem II and photosystem I activities on a new level. The outstanding opto-electronical properties of the DUAL-PAM-100 result from more than 25 years of experience with the PAM-101/102/103 chlorophyll fluorometer combined with exceptional modern engineering and craftsmanship. | | Essentially, the DUAL-PAM-100 possesses both, the properties of a high performance PAM chlorophyll fluorometer and that of a dual wavelength absorbance spectrometer. |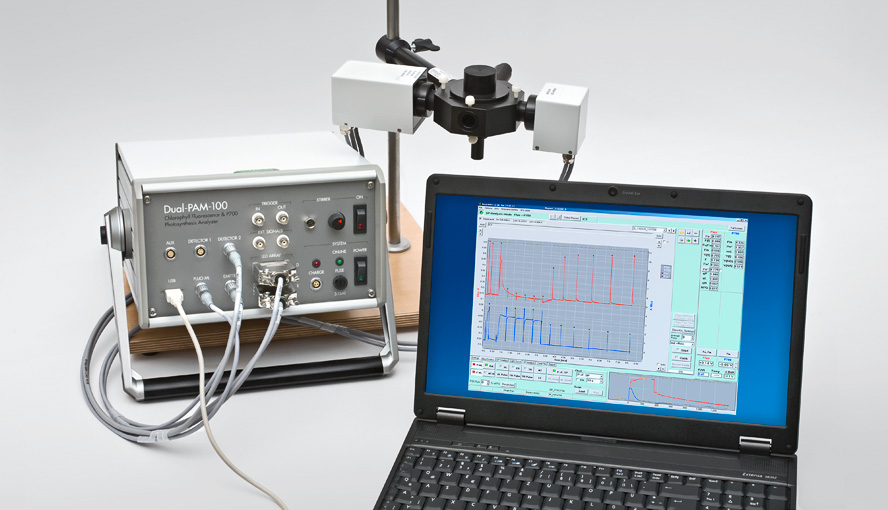 DUAL-PAM-100 control unit (left) with near infrared emitter head and P700/fluorescence detector head connected to an optical unit type ED-101US/MD.
The DUAL-PAM-100 measuring system is available in two different versions: the MODULAR version has its light sources and signal detection located in separate measuring heads which are controlled by a central unit.

In comparison, light sources and signal detection are located in the central unit in the FIBER version, in which sample and instrument are connected by special fiberoptics.




The MODULAR version permits the easy exchange of measuring heads thus allowing a wide range of different applications like determinations of NADPH or pH gradients.

The FIBER version lacks this flexibility but may be advantageous when only photosystem II and photosystem I activities are of interest. Both, the MODULAR and the FIBER version, can be used to measure leaves, macroalgae, microalgae and cyanobacteria.