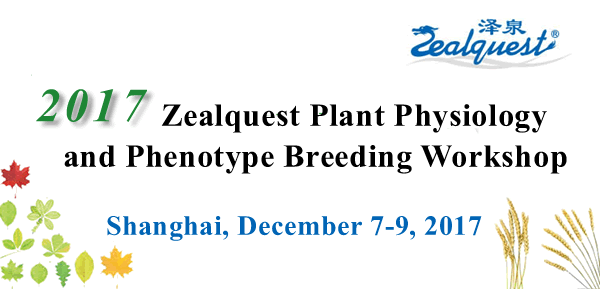 Dear Colleagues and Friends,

We would like to extend our warm invitation to everyone in the field of plant science to attend 2017 Zealquest Plant Physiology and Phenotype Breeding Workshop, which is scheduled on December 7th-9th in Shanghai, China.
Date

Venue

December 7th-9th, 2017

Pine City Hotel

No. 777 Zhaojiabang Road, Xuhui District, Shanghai
In the workshop, the technicians from Zealquest and foreign partners will introduce the principles, operation skills and applications of the physiological and phenotypic measurement instruments from WALZ, CID, CONVIRON, Lemnatec and other partners. The workshop will focus on the skills and applications of those instruments.
The scientific topics will cover "Molecular and Phenotypic Breeding", "Introduction and Application of Physiological and Ecological Measurement Technology", "Agricultural Internet of Things", "High-Throughput Phenotyping in Plants", "Seed Breeding Technology", "Root Measurement Technology", "Visit AgriPheno" and so on.
We believe your active participation will greatly contribute to the success of this workshop.
Contact
| | | |
| --- | --- | --- |
| | Email | Telephone |
| Vivi Xu | vivi.xu@zealquest.com | +86-21-3255 5118 ext. 8043 |
You will receive further information for registration after contacting us.
Look forward to meeting you in Shanghai.
Best regards.
Zealquest Scientific Technology Co., Ltd.